At the TM Forum's DTW 2022, President, Director and CEO, Indosat Ooredoo Hutchison (IOH), Vikram Sinha, shared IOH's digital transformation journey in a session titled "A Blueprint of Growth". In his speech, Sinha highlighted key strategies and desired outcomes, amongst other topics, as well as value propositions when reshaping and repositioning communication service providers for future success.
Indonesia is poised to become a digital powerhouse in Asia. Home to a population of 275 million and 62 million SMEs, the country's Internet economy is on a steady rise, projected to reach US$70 billion in the coming years. The country is also a hotspot for unicorns, with 12 out of 24 unicorns in Southeast Asia. By 2030, Indonesia is forecasted to have the tenth largest GDP, likely growing by 2045 to the fourth largest. One of the fast-growing in Southeast Asia, Indonesia's digital economy is projected to reach $146 billion by 2025.
Against the backdrop of Indonesia's burgeoning digital economy and unprecedented growth opportunities, Sinha has spearheaded digital transformation for IOH, previously known as Indosat Ooredoo, to capture new market growth.
Charting Growth Through Synergistic Collaborations and Digitalization
IOH was incepted in January 2022, when Indosat Ooredoo and Hutchinson Tri Indonesia merged. Before this, IOH was known as Indosat Ooredoo.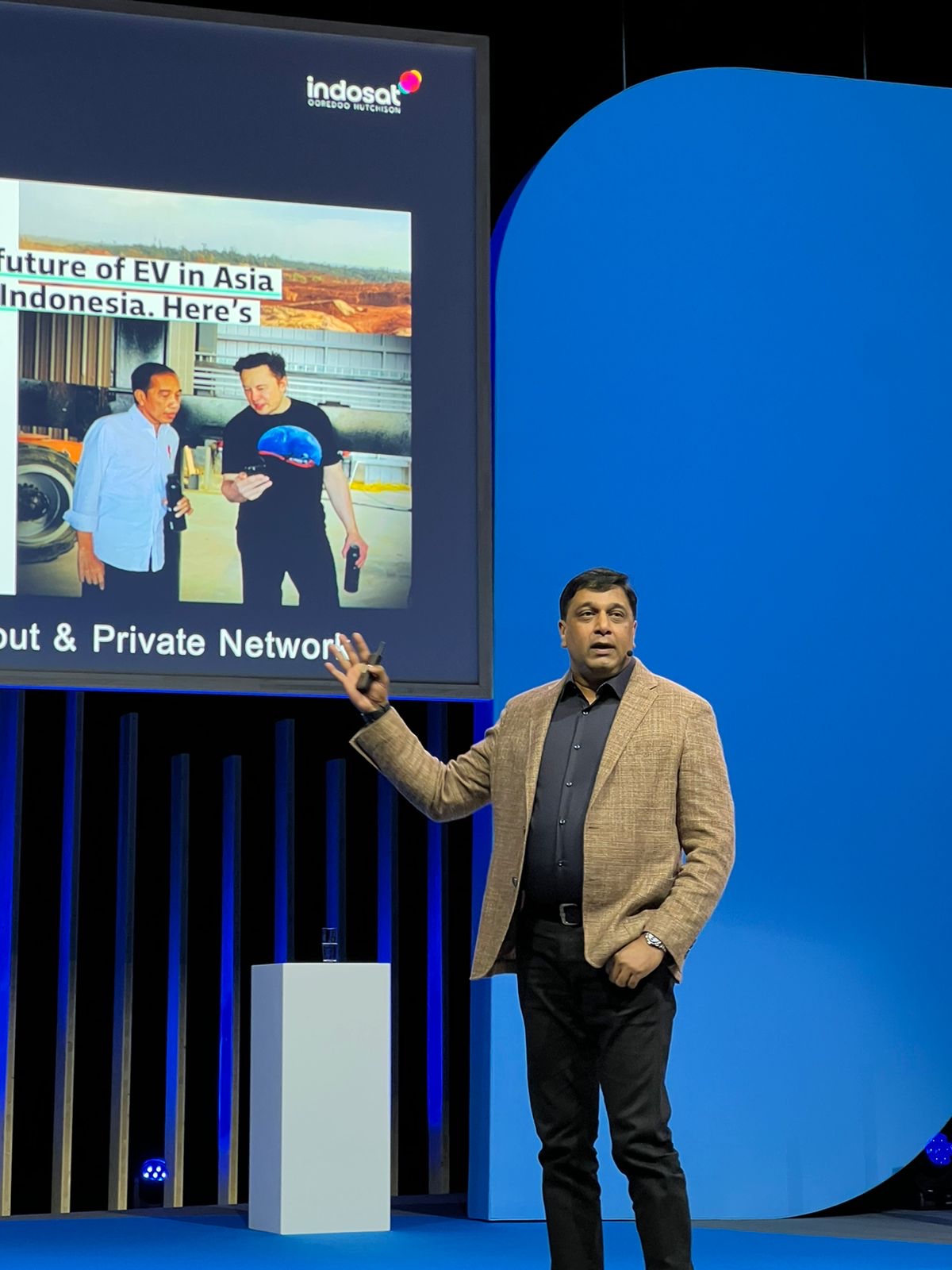 Vikram Sinha, President Director and CEO of Indosat Ooredoo Hutchison (IOH)
With years of leadership experience in telcos under his belt, Sinha, who helmed Indosat Ooredoo then, knew that change was imminent when he embarked on a plan to reinvent the telco. The plan was to break away from traditional telco models and embrace innovative technologies to achieve sustainable growth in the new digital economy. 
This conviction set the telco on a three-year turnaround strategy in 2019 to "Bring Indosat Glory Back". The vision has been to make IOH the most preferred digital telco in Indonesia. Meanwhile, the mission is to deliver world-class digital experiences, connecting and empowering every Indonesian. To achieve this, quality network experience, execution excellence and a strong brand image are key building blocks.
Under Sinha's leadership, IOH delivered a strong financial performance by the second quarter of this year. Data traffic climbed by 9% and total subscribers increased by about 1.6 million to reach 97 million subscribers, making IOH the second largest operator in the country. Total revenue climbed about 7% to reach US$785 million, and EBITA rose 9.5% to reach US$323 million. According to a third-party source, IOH saw the highest revenue and EBITA margin growth amongst its telco counterparts in the Asia-Pacific region. Separately, GSMA noted that IOH's indexed revenue growth is seven times the industry average, while its indexed EBITA growth is four times the industry average. In terms of shareholder value, IOH's market capitalization grew fourfold from 2018 to 2021.
Deep Partnerships to Connect Indonesians and Spur Economic Growth
IOH's digital transformation journey has proven to be a huge success. Close collaborations forged between IOH and industry partners help drive robust networking in the country and enable IOH to deliver the promise of a world-class digital telco experience.
"IOH was born with a purpose to connect and empower every Indonesian. And there's only one way to achieve this through the power of collaboration, or in Indonesia, we call it Gotong Royong, a win-win collaboration spirit to reach a larger purpose together," said Sinha. "At IOH, I encourage the entire management team and our employees to think big and maximize Indonesia's potential, stay focused on building and growing customer trust through strengthening our core business, and continue enabling and empowering communities."
Throughout this journey, Huawei has been a strategic partner in providing high-quality network assurance to ensure the success of the new company business. With RAN being a critical component of networking, IOH leverages Huawei's expertise and experience in ICT innovations to accelerate end-to-end RAN integration to power enhanced connectivity. This allows IOH to yield cost-efficient outcomes in the long run.
Huawei's innovation solutions facilitate intelligent and agile networking, essential for innovative services to serve and unlock growth opportunities in new markets. Under the partnership, for instance, Huawei provides IOH with the latest 4G and 5G technologies to connect and empower Indonesians. This has led IOH to successfully launch 5G services in six cities, namely Surakarta, Jakarta, Surabaya, Makassar, Balikpapan and Bali, the latest city to deploy 5G.
As a merged entity with a larger subscriber base, IOH is better positioned to leverage the scale, financial strength and complementary infrastructure to create cost and CAPEX synergies that drive more ambitious investments with higher returns. With combined spectrum resources, IOH delivers better network quality, wider coverage, and faster data speeds with broader product offerings to appeal to more customers across Indonesia. In addition, IOH can attract more strategic partners across industries to drive collaborations. As a result, this creates more business opportunities to accelerate Indonesia's digital transformation.
About eight months into the merger, IOH has successfully integrated nearly 50% of network sites, with plans in the pipeline to complete all network integration within the next 12 months. Through this endeavor alone, IOH is poised to deliver more than $400 million in synergies.
Apart from Huawei, IOH has also formed other strategic global partnerships. With BDx and Lintasarta, IOH has established BDx Indonesia to advance Indonesia's data center business. It recently introduced the UMKM Super Combo package with Google Cloud to provide cost-efficient solutions for MSMEs in Indonesia. IOH also sealed a partnership with Inligo Networks to build a new subsea cable system, ACC-1. Upon its expected completion in 2024, ACC-1 will provide up to 128 Tbps across its system, essential for connecting the Indonesian archipelagos and supporting the IOH in extending network capacity to power B2B and B2C services. Other partners include Tech Mahindra to jointly explore and implement enterprise-grade digital solutions, accessing IOH's 5G-ready private networks to support wide industrial applications.
With Indonesia fully embracing digitalization, the country is well placed to become a digital economic powerhouse in Southeast Asia. Through long-term strategic planning and partnerships, IOH will continue to empower individuals, enterprises and governments as well as advance economic recovery and growth.
To learn more about Indosat Ooredoo Hutchinson, please click here.