With more than 15 million 5G handset services in operation (SIOs) expected by the end of June 2023, the adoption of 5G is set to be faster than the previous generations, according to new research from emerging technology analyst firm, Telsyte.
The Telsyte Australian Mobile Services Market Study 2019 found the local market is forecast to reach 15 million 5G handsets between 6 to 12 months sooner than when the market shifted from 3G to 4G technologies.
Figure 1: Australian smartphone installed base growth and expectations by 4G vs 5G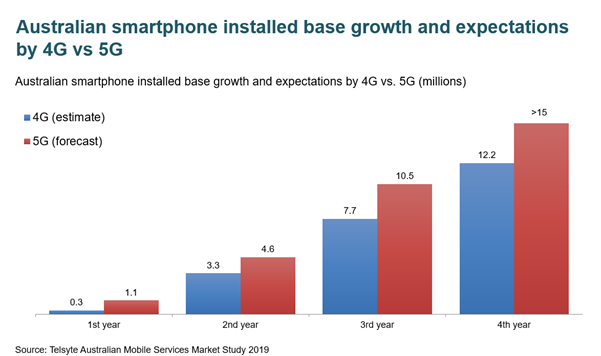 The Australian mobile services market grew by around half a million new SIOs in the six months to December 2018, reaching 35.4 million at the end of December 2018. Telstra and MVNOs were the top two for SIO net growth, driven by IoT and competitive handset plans, respectively.
Telsyte research shows more than 70% of handset SIOs (including prepaid, post-paid BYO M2M and post-paid BYO contract) are now BYO, up from around 64% in 2015.
Telsyte expects the BYO market will continue to grow steadily in Australia; however, handset contract plans will benefit most initially from the arrival of 5G as there will be more 5G handsets priced above $1,000 in the next 18 months.
The availability of 5G handsets and networks is set to be faster than previous generations, with consumer expected to respond.
The smartphone market is ripe for upgrades with survey data showing a quarter of consumers are holding off buying a new smartphone until 5G becomes available.
Unlike 4G, 5G handsets are already available from the outset. The first 4G handset in Australia (HTC Velocity 4G) was released 3 months after Telstra officially launched 4G.
"Australia is at the very beginning of 5G, but when 5G becomes the standard, consumers won't be able to look back" says Telsyte Senior Analyst, Alvin Lee.
Telsyte also anticipates widespread network availability to be quicker for 5G than it was for 4G with Optus and Vodafone moving faster with their roll outs than with 4G.
According to Telsyte's mobile services research, the total services revenue (measured half-yearly) has been in decline since December 2017, mainly due to price-driven competition, giving carriers added incentive to try and arrest declines.
Telsyte research shows 5G has the potential to halt declining revenues. In a positive sign for carriers, some 1 in 4 Australian mobile users are willing to pay more for a 5G service compared to their existing service. Among those willing to pay more for 5G, the average is between $5 and $10 a month.
The arrival of 5G is also expected to drive business investment, especially with the potential of next generation IoT applications. Telsyte forecasts enterprise 5G opportunities driven by application development, IT services, platforms and connectivity could reach around $45 billion per annum by the mid-2020s.
The share of total 5G spending on network connectivity is expected to increase from around 1 per cent in 2020 to nearly 15 per cent by the mid-2020s as more devices and services connect to the 5G networks.