In an exclusive interview with Telecom Review Asia Pacific, Jay Chen, Vice President, Asia Pacific Region, Huawei, shares how innovation and policy priorities can reshape APAC's digital landscape and socio-economic trajectory.
COVID-19 has brought to sharp focus the importance of digital connectivity as societies face unprecedented disruptions and grapple with its devasting effects. With remote working and online learning becoming the new normal, digital connectivity has emerged as the lifeline to support the continuance of social and economic activities in a socially-distanced world. It is also indispensable in the context of pandemic response to facilitate the rapid dissemination of top-down information from governments regarding pandemic policies and regulations. 
While no one is spared from the adverse effects of the pandemic, the hardest hit remains marginalized groups. For Jay, whose role includes leading Huawei to create shared social values in the region, it is clear that inclusion must be embedded at the heart of digital connectivity to ensure that no one is left out. In the words of Jay, "Digital inclusion is one of the most urgent and defining issues of our time."
Closing the digital divide in APAC
Studies have shown that a 1% increase in the digital ecosystem development index can yield a 0.13% growth in GDP per capita. In a post-pandemic era, digital inclusion promises a faster economic recovery. However, closing the digital gap in APAC can be an uphill task when those marginalized lack the infrastructure, access, or know-how to participate in a digital economy. 
In the least developed countries, for instance, 17% of the rural population does not have mobile broadband coverage, while 19% of the rural population is only covered by 2G networks. Where coverage is available, high costs of an Internet-enabled device or Internet access are often the main barrier of entry, as reported by the Broadband Commission for Sustainable Development on the basis that mobile broadband subscription for at least 1.5 GB of data costs about four times more in developing countries than in developed countries. The lack of literacy and digital skills is yet another barrier to mobile Internet adoption for this group of underprivileged.
To bring meaningful change to this divide, Jay opined that technology must go hand in hand with sound policies. On top of improvements to infrastructure, governments are recommended to champion change through supportive top-down policies to facilitate technological progress that permeates every facet of society.
Regarding this, Jay explained that early investment into networks is essential for ensuring sustainable development in the long run. At the most basic level, regulators could consider making provision for all frequency bands to support a 5G-oriented evolution. Jay stressed the importance of allocating operators adequate key spectrum resources such as C-band and 700 MHz frequency to lay the foundation for optimal coverage and capability. 
For the successful deployment of 5G and sustained development beyond 5G, the 6 GHz frequency – comparable to C-band in terms of performance and cost-effectiveness, as well as the last remaining mid-band possibly available for IMT in the future are crucial. In addition, research from Coleago Consulting found that operators should be allocated at least 1 GHz of additional mid-band spectrum to scale according to future 5G development.
With infrastructure being the foundation to connectivity, it's important to continually improve existing 4G infrastructure by expanding its coverage and increasing the penetration rate of this network. Accelerating VoLTE deployment in 4G networks should also be a priority to expedite the sunset of 2G/3G to 4G. 
Within the industry, timely infrastructure deployment is important for efficient 5G roll out. Deployment processes should be simplified to reduce complex and lengthy processes. In areas where population density is lower, and commercial drivers of network investment are smaller, governments should extend public funding. 
Finally, Internet-enabled devices and broadband Internet services should be made affordable to users to reduce the risk of increased marginalization in the region
With the pandemic fuelling a greater digital reliance, connectivity is no longer a luxury, but a necessity in our lives. In view of this global trend, Jay shared that digital inclusiveness is central to Huawei's vision to bring digital connectivity to every person, home and organization for a fully connected, intelligent world.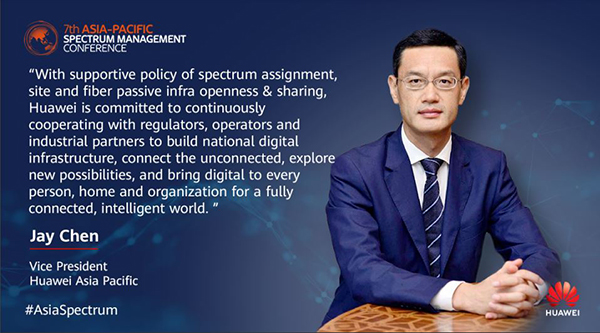 As a leading ICT solutions provider, Huawei partners with governments to provide policy support and with operators to develop optimized infrastructure to power next-generation connectivity. To greatly accelerate digital transformation and close the digital divide, Huawei leverages on technology and expertise in areas such as spectrum assignment, site and fiber passive infra openness and sharing. In India for instance, Huawei is supporting operators on enhancing network quality and increasing capacity to handle the surge in network traffic during the pandemic.
For instance, Huawei SingleRAN offers an open and simplified networking concept to help operators expedite 5G network deployment; CloudAIR allocates air interface resources on-demand, according to traffic demands or mobile user location; RuralStar Pro provides cost-effective and quick installation of base stations as well as provisioning of LTE and VoLTE in underserved areas; and Massive MIMO yields improved network coverage and enhanced user experiences. Through these solutions, Huawei assists governments and operators in rolling out optimised, affordable, and hence, inclusive networks.
Digital transformation founded on R&D, innovation and talent-building
According to the Asia Economic Integration Report 2021, accelerated digital transformation in Asia will generate an annual economic dividend of more than $1.7 trillion, or the equivalent of more than $8.6 trillion over the 5 years to 2025, creating 65 million new jobs each year.
However, the rapid development reveals an imminent ICT talent deficient in the region that will impede growth if not addressed.
Moreover, the digital landscape varies vastly from country to country in the APAC region, as reported in Huawei's Global Connectivity Index (GCI) 2020 findings, which categorizes countries' digital economy journeys according to their ICT investment, ICT maturity, and digital economic performance.
With digitalization shaping economies and ICT becoming integral to most sectors, Huawei recognizes that the APAC region presents its set of unique challenges and opportunities. 
"Inclusive digital transformation relies on collaborations with industry stakeholders and convergence of emerging technologies. Huawei undertakes a multi-faceted approach toward spearheading progress, working with both upstream and downstream partners to build a holistic ecosystem focused on research and development, innovation, and talent-building," Jay explained.
Every year, Huawei invests over 10% of its revenue into R&D to bring added value to its partners worldwide. In the APAC region specifically, Huawei has built 8 research centers and labs in countries like Hong Kong, Singapore, India, and Thailand. 
Committed to achieving shared success and joint innovation, Huawei is vested in ecosystem-building with strategic partners. Broadly, this ecosystem can be categorized into Startup, 5G, and Handphone Mobile Services (HMS). 
Driven by the Huawei Spark program launched last year, the Startup ecosystem aims to accelerate tech start-up growth in the region. Through this program, Huawei provides cloud and AI technical and consulting support, as well as funding and mentorship. 
In the 5G ecosystem, for instance, Huawei developed a 5G Ecosystem Innovation Center with the Thai government last year to fast-track the development of digital innovations for 5G applications and services across various industries. It will also incubate about 100 local SMEs within 3 years. Efforts as such aim to greatly enrich the local 5G ecosystem and expedite digital progress.
Finally, the HMS ecosystem comprises initiatives such as Huawei's APAC DIGIX Lab in Singapore. Launched this year, the DIGIX Lab leverages Singapore's position as a growing technological hub to spur mobile app development in the APAC region.
To address a potential talent gap, Huawei is vested in nurturing national digital talent ecosystems. Having debuted in 2008 for young students in Thailand, Huawei's Seeds for the Future program has since expanded to benefit more than 5,000 students in 90 universities across 15 countries. Huawei has also established regional training centers and ASEAN academies, and forged partnerships with the public sector in countries such as Thailand, Indonesia, Singapore, and Malaysia, as well as 159 universities on talent development programs. More recently, at the Digital Talent Regional Summit, Huawei has committed to grooming digital talent in Bangladesh, Nepal, and Sri Lanka. Collectively, Huawei will help cultivate more than 300,000 ICT talents in the APAC region within the next 5 years.
Unleash full 5G potential with Huawei
Huawei commenced on 5G research as early as 2009, with investments totaling US$4 billion to date. Having invested early and heavily into 5G, Huawei is at the forefront of innovative 5G end-to-end enterprise products and solutions, designed based on insights into partners' unique needs. 
For example, Huawei launched the industry's lightest TDD Massive MIMO product this year to benefit 80% of commercial 5G networks using TDD Massive MIMO technology. Weighing just 19 kg, the module can be carried and installed by just one person to greatly improve network deployment efficiency. And in Europe, where FDD has been used to build 5G networks, Huawei innovates with the industry's only commercial FDD Massive MIMO product.
Through heavy investments and continuous innovations, Huawei has helped global operators build differentiated networks that deliver the best experience, but are yet easier to operate, more cost-effective, and simpler to deploy to reap greater returns on 5G investments. Just last year, Huawei delivered over 100 5G networks worldwide.
Across industries, Huawei achieves joint creation and shared success through partnerships on diverse 5G applications across verticals. In Thailand for example, Huawei has partnered with the public healthcare sector to pilot unmanned vehicles, leveraging 5G to deliver medical supplies, among other use cases. 
In alignment with Huawei's commitment to provide continuous support to societies, Jay concluded that the Chinese giant will continue to engage and work with both regional public and private stakeholders to advance both technologies and industries during and after the pandemic to drive social-economic progress and digital transformation.