With a bit of innovation, poor regions can become thriving commercial markets.
By Chris Marquis and Haitao Yin
Internet access and economic growth go hand in hand, and the overall trends on the former are encouraging: the number of people living in parts of the world not covered by broadband networks has shrunk from 750m in 2018 to 600m today.
But most of that improvement occurred in South Asia, especially India. In Sub-Saharan Africa, by contrast, mobile broadband access is low: 36% of the population is not covered by a 3G network and only 21% subscribe to mobile internet services. Access is poor mainly because 60% of the population live in rural areas, where the cost of installing a base station – the tower, antenna, radio, and other equipment that transmits and receives data – is extraordinarily high.
In a remote location, a typical cell site requires at least three high-powered antennas mounted on towers taller than the surrounding trees and hills, typically 24 to 50 meters high. The local power grid is likely unreliable, so each site needs a diesel generator. It also typically needs a microwave connection to the rest of the network, so base stations require dishes with a line-of-sight connection to each other. 
All these factors make cell sites 18% more expensive in rural areas and 35% more expensive in remote areas than they are in cities. Each site typically costs at least US$300,000, and can cost as much as US$1 million. Worse, they serve poor areas, so the revenue they generate for operators can be 90% lower than for urban sites. Often, operators must wait 10 years to recover their initial investment.
Because installing the tower is not economically viable for the operator, many villages are cut off from the Internet – and, effectively, from the world. 
But with a bit of innovation, commercially viable solutions can be designed that not only solve the social problem, but also deliver a commercial return.
Recently, students from both of our universities, Cornell and Shanghai Jiaotong, had the opportunity to take part in a field learning project at Huawei, the world's largest maker of telecommunications equipment, examining what the company is doing to address this important issue. 
In 2018, Huawei began looking for a solution that would lower costs and give operators a quicker return on their investment. The company's team in Ghana began experimenting with different approaches, ultimately creating a new kind of base station that eventually would be known as Rural Star.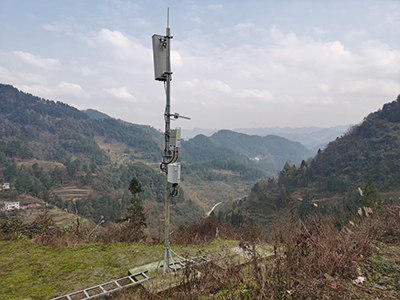 The original prototype changed the material of the cell site tower from steel to wood. Such a low-tech change might not be considered an "innovation," but it greatly reduced the cost of the tower. (Later versions went back to using steel for the towers.)
Engineers also reduced the tower height from 50 meters to just six, significantly lowering construction costs. This was possible because, instead of microwave dishes, they used a 4G wireless connection to link base stations to the network. Because they no longer needed a line-of-sight connection between the dishes, operators had more flexibility on where to put the site. 
Finally, engineers powered each cell site with solar panels, rather than a diesel generator. This reduced energy consumption and meant operators no longer had to buy diesel and send technicians to refuel the base stations.
All of these steps reduced the cost of building a base station from US$330,000 to less than US$15,000. Suddenly, bringing connectivity to a village became an economically viable proposition.
We believe this was in many ways the biggest learning for our students and why Rural Star is an important case study. The project is not just an example of "corporate social responsibility" but also how through purposeful innovation, companies can create a commercially viable solution to a vexing social problem.
Huawei conducted a trial of Rural Star with MTN Ghana, part of MTN Group, Africa's largest mobile network operator. Within two months, 500 people had connected to the system. This higher-than-expected usage rate meant MTN had to wait just 30 months to realize a return on its investment. 
To date, MTN Ghana has deployed 400 Rural Star sites, connecting 900,000 people in Ghana. The technology is now being used in 60 countries, including Nigeria and Kenya, helping more than 50 million people connect to the internet.
About two-thirds of the world lives on less than US$10 a day. Lacking internet access, these people are cut off from a wide range of opportunities, including commercial ones, and they will continue to fall behind the rest of the world. Information and communications technology has the potential to widen the gap between rich and poor, or to narrow it.
Bringing connectivity to unconnected areas is a step to a more open, inclusive, and intelligent world.As the Rural Star case shows, properly focused innovation can create a win-win for both business and society.
Chris Marquis is Samuel C. Johnson Professor of Global Sustainable Enterprise at Cornell University.  Haitao Yin is Professor of Business Economics and Public Policy at the Antai College of Economics and Management at Shanghai Jiao Tong University. 
Find out more about Huawei's RuralStar here: