Sub-3GHz is essential for operator business success
Amid accelerated 5G deployment, countries are divided in their approach toward managing spectrum. China for instance, has been making strides with TDD 5G deployments, while a mix of TDD and FDD 5G deployments are taking place concurrently in Europe – where FDD NR is deployed for fast 5G deployment and TDD demand and non-C-band for 5G. Across different regions and countries, 5G strategies vary owing to spectrum and resource availability.
Cao Ming, vice president of Huawei wireless network product line, spoke to Telecom Review on this matter and shared about Huawei's award-winning FDD Gigaband MIMO Modules in helping operators unleash the full value of sub-3GHz for 5G success.
Despite approach differences, Mr. Cao notes "a growing trend amongst countries to utilize spectrum resources more effectively and deploying FDD for 5G deployment". For instance, in countries including China, Netherlands and Germany, sub-3GHz is deployed for 5G rollout as operators ensure continuous sub-3GHz evolution and rapid 5G coverage.
To empower consumers on their 5G journeys, facilitate digitalization across industries and help operators achieve revenue growth and commercial success, Huawei focused its award-winning innovation on three key objectives: ubiquitous 5G, ultra-high definition experience and simplified green network evolution.
Sub-3GHz bands offer good propagation performance and have the advantage of wide and in-depth coverage. Mr. Cao added that sub-3GHz is a "very valuable resource for operators as it carries a very large user base in 2G, 3G, 4G or 5G".
Designed to help operators worldwide build efficient 5G infrastructure, and deployed in more than 100 countries and regions including Germany, China, Malaysia, Pakistan and Brazil, Huawei New FDD Gigaband MIMO Series clinched the GSMA GLOMO Award for "Best Mobile Network Infrastructure" at the MWC 2022 Barcelona.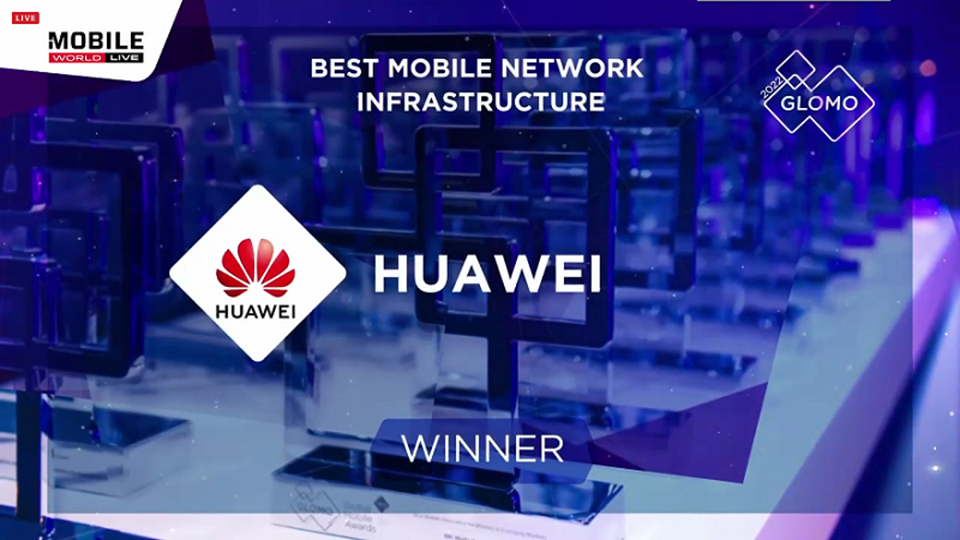 Three technologies to utilize the full potential of sub-3 GHz
Huawei New FDD Gigaband MIMO features revolutionary ultra-wideband, multi-antenna and multi-RAT coordination solutions to help global operators quickly provide 5G coverage with excellent experience, while also greatly improving 4G user experience.
This award-winning series is the first of its kind to support low-band and mid-band sub-3GHz frequencies in one radio box by implementing 4T4R, 8T8R and massive MIMO, with features such as PIM cancellation, SingleCell and PowerBoosting.
"Compared to C-band with 100MHz spectrum, FDD spectrum is limited and fragmented with small-bandwidth. For instance, low-frequency bands 700MHz, 800MHz and 900MHz are isolated, instead of being integrated on individual modules. The same is true with mid-band frequencies such as the 1.8 GHz, 2.1 GHz and 2.6GHz," Mr. Cao explained.
To address this, Huawei's ultra-wideband modules integrate low-band and mid-band frequencies like 700MHz, 800MHz and 900MHz, or 1.8 GHz, 2.1 GHz and 2.6GHz into a single module to provide a service, instead of having three separate modules.
Speaking at length on this innovation, Mr. Cao added, "The series features MIMO (multi-input and multi-output) technologies that effectively increase capacity and efficiency of frequency bands by 2 or 3 times. This allows operators to fully utilize available sub-3GHz resources, enabling greater spectrum efficiency to yield improved user experience and address greater traffic demands."
From an investment viewpoint, Huawei's FDD Gigaband MIMO also reduces operators' CAPEX and OPEX.
Elaborating further, Mr. Cao added that Huawei's innovation must not only work for 5G, but also be "backward compatible with 2G, 3G and 4G, to ensure that the experiences of existing subscribers are not compromised". This is based on Huawei's experience with one of its clients, China Mobile, which continued to experience strong growth momentum for 4G users despite amassing a large number of 5G subscribers.
4-8-M solution continues to lead industry expansion and light up the future
Huawei New FDD Gigaband MIMO Modules integrates multiple frequency bands, with innovations introduced to hardware 4T4R-8T8R-Massive MIMO, software and algorithms. Myriad factors such as weight and total dimension were taken into consideration when integrating different physical modules, to ensure that its design is small and lightweight for easier on-site engineering.
As low band is overloaded due to its limited bandwidth and outstanding coverage, 8T8R at mid-band provides the same low-band coverage at maximum spectral efficiency to yield ubiquitous experiences. More specifically, 8T8R offers next-generation energy-efficiency with the same coverage, reducing energy consumption by 30% to provide the same experience.
Elaborating, Mr. Cao noted that multi-antenna supports beamforming, which makes beams more precise and energy more concentrated, therein improving coverage and enabling less power input with the same coverage. SDIF procedure technology introduced in antennas also enables reduced cable consumption, yet higher antenna gains (+1.52dB at -20% RRU transmit power) to deliver the promise of green manufacturing.
Addressing this in Huawei's 8T8R technology, Mr. Cao shared that "innovations were introduced to software and algorithms to achieve power-sharing across different frequency bands, antennas and radio access nodes. This gives operators the same coverage without the need for additional sites".
For instance, Huawei's 4T4R, 8T8R and advanced massive MIMO technologies have been deployed to help an operator provide integrated services on 5 frequency bands with just 2 modules. With already 3 frequency bands, the operator planned to add 2 more frequency bands. Traditionally, operators would require 5 modules for each frequency band. However, with Huawei's 4T4R, 8T8R and massive MIMO technologies, the operator achieved the desired outcome with just 2 modules. Network capacity increased by 8.4 times, while output power and power consumption increased by just 11% – demonstrating the significant commercial and social values brought about by Huawei's innovative 4T4R, 8T8R massive MIMO technologies.
Finally, sharing on Huawei's GSMA GLOMO Awards win, Mr. Cao said, "In the 5G target network, our 4T4R, 8T8R massive MIMO technologies for sub-3GHz are widely recognized by the industry and customers. Receiving the award at MWC 2022 is validation that these technologies are part of the future 5G target network."