Bandwidth-intensive 4K video, gaming and IPTV applications, coupled with emerging 5G and IoT services, spur unprecedented demand for higher bandwidth.
According to the Global System for Mobile Communications Association (GSMA), the number of IoT connections will reach close to 25 billion by 2025. In addition, a surge in connected devices in homes and across industries makes it pressing for operators to evolve toward gigabit broadband, through the adoption of passive optical networking (PON) technology, to deliver gigabit experiences.
Data from the consultancy Global Market Insights shows that global shipments of GPON products crossed 250 million units in 2021. The GPON market is forecasted to grow at a compound annual growth rate (CAGR) of over 10% from 2022 to 2028. A market segment that contributes to significant GPON growth is fiber-to-the-home (FTTH), which is essential for the implementation of smart home applications like home automation and home security.
Large-scale deployment of newer services requires the evolution of GPON to 10G GPON. Many operators across the globe are deploying 10G GPON to provide higher bandwidth and lower latency. In China, which is a frontrunner in gigabit construction, the three major operators have been accelerating 10G GPON deployment in recent years.  
In May 2022, China Mobile announced the results of its optical network terminal (ONT) tender for 2022-2023. With a total volume of 26.3025 million units, the tender represented the largest centralized procurement of ONTs by any operator in the Chinese market this year, drawing participation from numerous vendors. 
Based on the tender results, ZTE clinched a portion of all the five bidding packages and was the top winner in three of them. In the two packages for 10G GPON with Wi-Fi 6 and 10G GPON without Wi-Fi, ZTE landed the largest share, which testifies to its leadership in the commercial deployment of 10G GPON technology.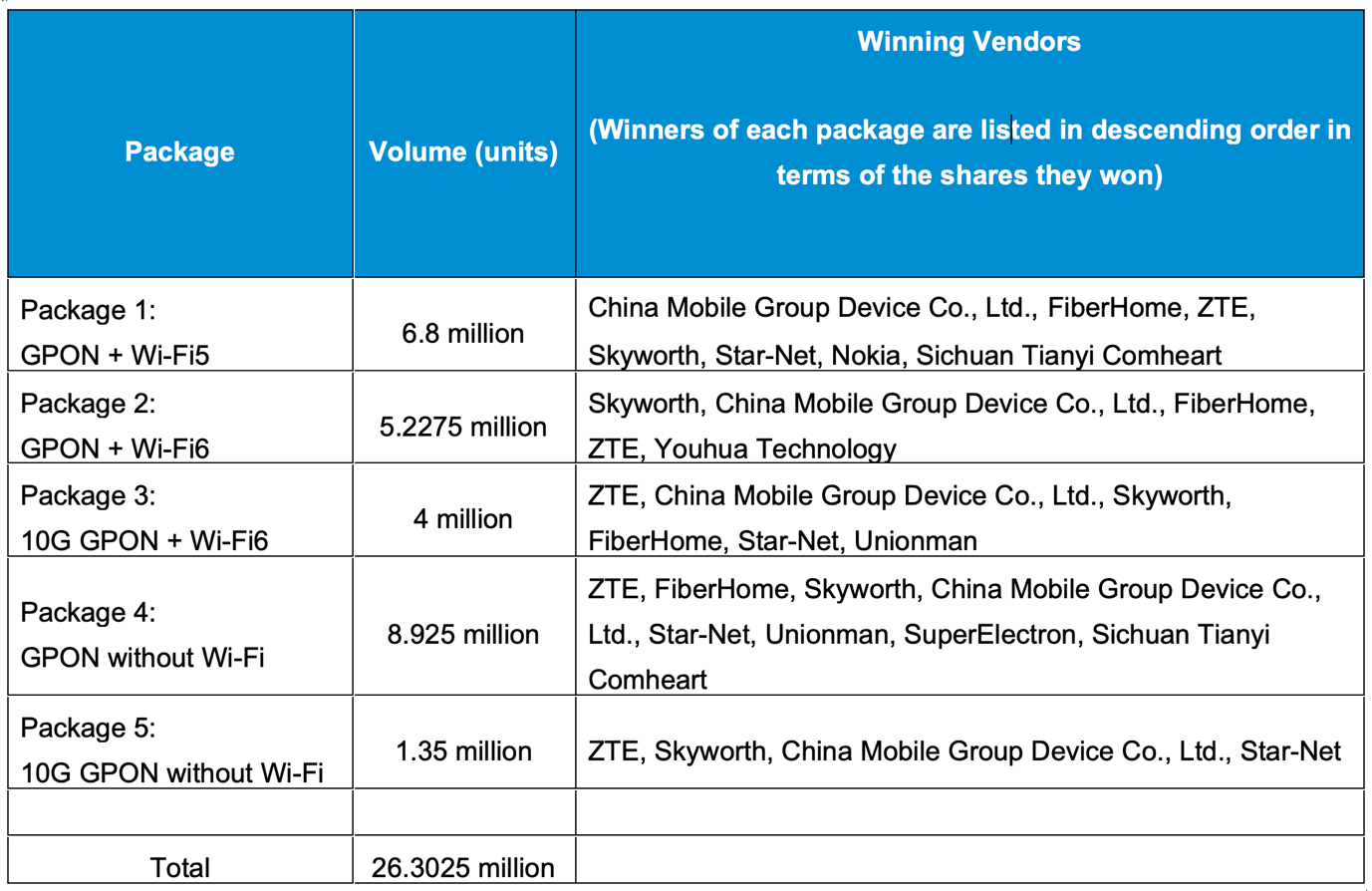 ZTE ranked first for shipments of PON ONT devices with a 33% share of the global market in 2021, according to research firm Dell'Oro Group.