MEF is pleased to give companies until Thursday, 19 September, to make submissions for the 2019 MEF Awards program, which recognizes service, application, technology, and professional excellence and innovation on a global basis.
If your company has not taken advantage of the opportunity to spotlight your leadership and innovation, now is the time to act!
Awards submissions deadline – 19 September
Visit the 2019 MEF Awards site for a full listing of award options and submit your entries through the online Awards Submission Portal. We have reduced the amount of information requested in entry forms to increase the efficiency of the submissions process.
All entries must be received by 6pm US Pacific Time on 19 September.
MEF Awards sinner – 19 November at MEF19
Award winners will be recognized during the 2019 MEF Awards Dinner Gala, 7:30pm – 10:00pm, 19 November, at MEF19, except for MEF 3.0 Proof of Concept honorees who will be announced on 20 November at 6:45pm in the Networking Hall.
A must-attend gathering of 1,000+ industry professionals from 35+ countries, MEF19 will be held on 18-22 November 2019 at the JW Marriot LA Live in Los Angeles, California.
Awards categories
The 2019 MEF Awards program features 52 awards across six major categories.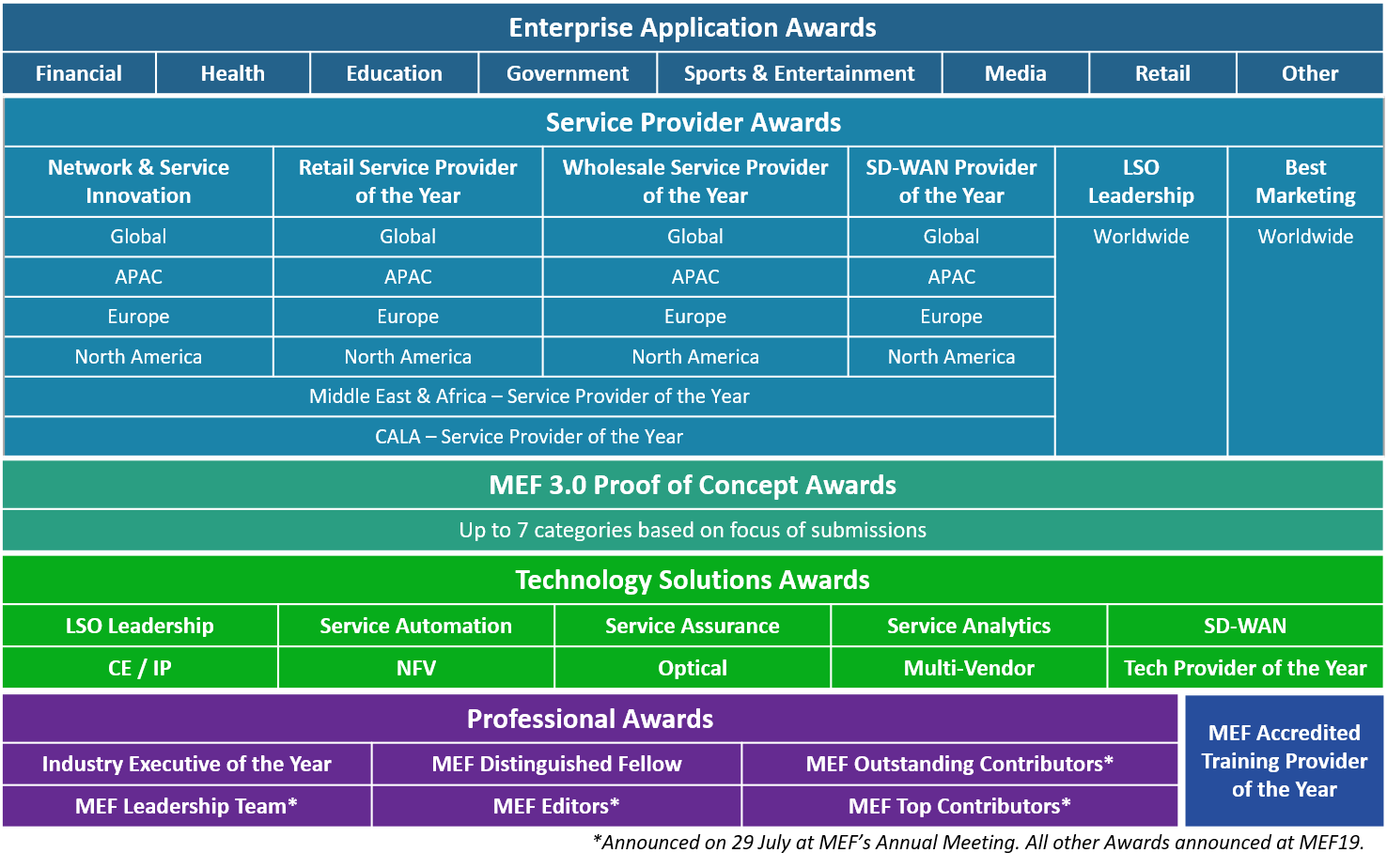 Key dates
• Submission deadline: 19 September
• Finalists announced: 14 October
• Application, Service, Technology, and Professional Winners announced: 19 November
• MEF 3.0 PoC Winners Announced in MEF19 Networking Hall: 20 November
Awards contact
For more information on the 2019 MEF Awards, please contact Stan Hubbard, MEF19 Program Director and Director of Communications & Research, MEF, at This email address is being protected from spambots. You need JavaScript enabled to view it..