Telecom Review Asia interviews Leo Jiang, chief digital officer of Huawei Cloud, Asia Pacific Region to find out about Huawei Spark's role in accelerating startups to scale-ups in the region, as well as highlights of the upcoming Spark Founders Summit
The pandemic has served as a catalyst for innovation and a driving force solidifying Asia's stature as an emerging hotbed for startups. In 2020, Asia's startup economy outpaced previous years to account for 30% of the global startup economy, valued at $3 trillion.
To tap into the unleashed potential of startups and bring about socioeconomic benefits to the region, Huawei launched the Huawei Spark accelerator programme in August 2020 to incubate and accelerate startup growth in the Asia-Pacific. Leveraging Huawei's world leading tech and global ecosystems, the programme aims to propel startups to scale-ups, regarded as the future growth engine for economies.  
While there is no lack of entrepreneurship and innovation in APAC, Leo Jiang, chief digital officer of Huawei Cloud, Asia Pacific Region notes that startups need to contend with major issues in the region to scale. As APAC is home to a heterogeneous market represented by a multicultural and multilingual landscape, success cannot be easily replicated in another country especially when ecosystem stakeholders tend to work in silo. Adding complexity to this fragmented region are gaps in education, infrastructure, and economic activities between developed and developing countries. 
Propelling growth startups with global ecosystems
Huawei Spark believes in building a global startup ecosystem founded on three key attributes – inclusive, integrated, and inverted. Firstly, a strong ecosystem must be an inclusive one where stakeholders delivering different value propositions contribute towards a shared purpose to create value.  
"Startups need ecosystems, not ego-systems," as Leo emphasised. With startups at the heart of an ecosystem, all stakeholders including government agencies, venture capitals, enterprises, universities, and service providers perform complementary roles to facilitate value creation and shared success.  
Secondly, to maximise value derived from ecosystems, vertical collaborations are forged to create cohesive and increasing connectivity throughout the value chain. Focus is also placed on expanding horizontal capabilities to address the needs of industry verticals. Using this model, startups are selected from similar industries, yet focused on serving different aspects to complement one another either horizontally or vertically to yield synergistic benefits.
Leo gave an example of how startups specializing in areas such as security, artificial intelligence (AL) and machine learning (ML) come together to provide capabilities to verticals in the financial service, manufacturing or retail industry under the accelerator programme. Not only is this strategy more risk-proof, it also makes provision for faster go-to-market and greater economies of scale.
Finally, building an inverted ecosystem shifts its value creation from within the system to outside of it. This ecosystem requires a platform that connects sub-ecosystems regionally and globally to create network effects. Citing companies like Uber and Grab, Leo shared that they deliver most of their value from drivers, not employees. Going beyond a vertically-integrated ecosystem, an open ecosystem orchestration allows companies to reap value from external stakeholders.
"Huawei Spark is focused on playing an enabling role, as the platform that connects ecosystems across APAC. We aim to orchestrate value between ecosystems across geographies," said Leo. An example is how Huawei Spark successfully connected DoctorOnCall, a winner in Malaysia's Spark competition, with the Sri Lankan stakeholders.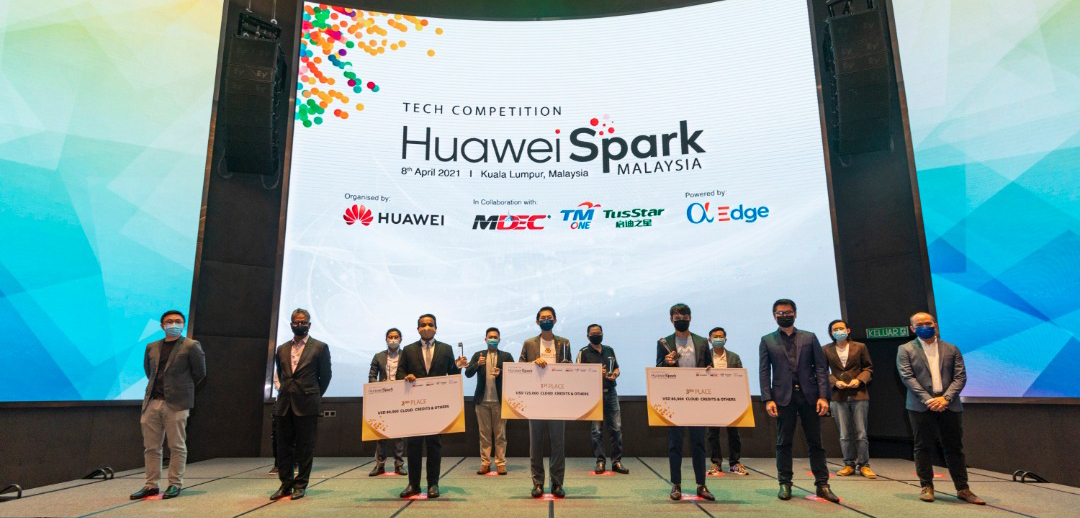 Raise startup competency with a holistic tech stack
Currently, the startups under Huawei Spark span across four key industries, namely financial service, energy, retail, and manufacturing to align with the profile of Huawei's existing clients. Apart from raising the competitiveness of startups by giving them mentorship and access to a coveted global ecosystem, Huawei Spark offers startups access to its tech stack. This tech stack covers capabilities in three areas, namely devices, carrier connectivity, and enterprise solutions, delivering $138 billion in value in 2020. 
Boasting end-to-end capabilities encompassing hardware, firmware, and software, with innovative solutions across mobile, 5G, AI, and cloud, Huawei's tech stack offers these startups the most comprehensive and future-proof solutions. 
Bridging socioeconomic divide across APAC
While APAC as a whole has advanced over the years, economic and social disparity remains a growing concern. However, startups can create value that goes beyond its customers to have a far-reaching impact on the economic and societal developments in countries in which they operate.
Particularly high-growth ones, startups can stimulate job creation to drive economic recovery and growth in today's pandemic-stricken landscape. To address a talent crunch in the region, Huawei works with government agencies to develop programmes to groom ICT talents and raise the overall digital literacy and competency levels.
Beyond this, revolutionary startups can also have a transformative effect on industries that help them transit from being labour-intensive to knowledge-based, service-centric industries. They can also help to create new industries over time.
Tapping on Huawei's rich experience and technological capabilities, the accelerator programme empowers startups to contribute to local communities and societies to help bridge the digital and social divide between developed and less developed nations. Instead of being home to a few countries that enjoy tech dominance, APAC as a whole can emerge as a stronger region globally.
Spark Founders Summit
Having met with over 1,000 founders since the inception of the accelerator programme, Leo feels that today's founders lack a bigger stage to showcase their startups. With this as the source of impetus, Huawei Spark will be holding its inaugural Spark Founders Summit as its flagship event to amplify high-potential startups.

Taking place on 3 August as a hybrid, multi-country event in Singapore and Hong Kong, the Spark Founders Summit will convene government agencies, venture capitalists, enterprises, and unicorn founders to harness thought leadership from policy-makers, investors, and entrepreneurs. Dialogues and discussions will centre around innovation and entrepreneurship in the region. Huawei Spark will also use the opportunity to share its successes in the past year.
To date, Huawei Spark boasts a portfolio of about 40 startups, anchored in countries like Singapore, Hong Kong, Thailand, and Malaysia, where the programme has been launched. Owing to its success, the programme will soon launch in Sri Lanka, followed by Indonesia, Philippines and Vietnam in the coming year to complement existing markets.
In Leo's words, "Huawei Spark is accelerating. Moving forward, we are geared up to create more impact in the region."