Huawei's net profit recorded an all-time high in 2021, increasing 75.9% year-on-year to reach 113.7 billion yuan. However, revenue declined by 28.6% from the preceding year, totaling 636.8 billion yuan. The company's R&D expenditure reached 142.7 billion yuan, accounting for 22.4% of total revenue, and the highest R&D amount the tech giant recorded in the past decade.
Despite a decline in revenue, Huawei reported an increased cash flow totaling 59.7 billion yuan, while liability ratio dropped to 57.8%.
Speaking at Huawei's 2021 annual report press conference, Meng Wanzhou, Huawei's chief financial officer noted that Huawei has a sound financial standing, where higher profitability and operating cash flow can be attributed to improved management and product portfolios.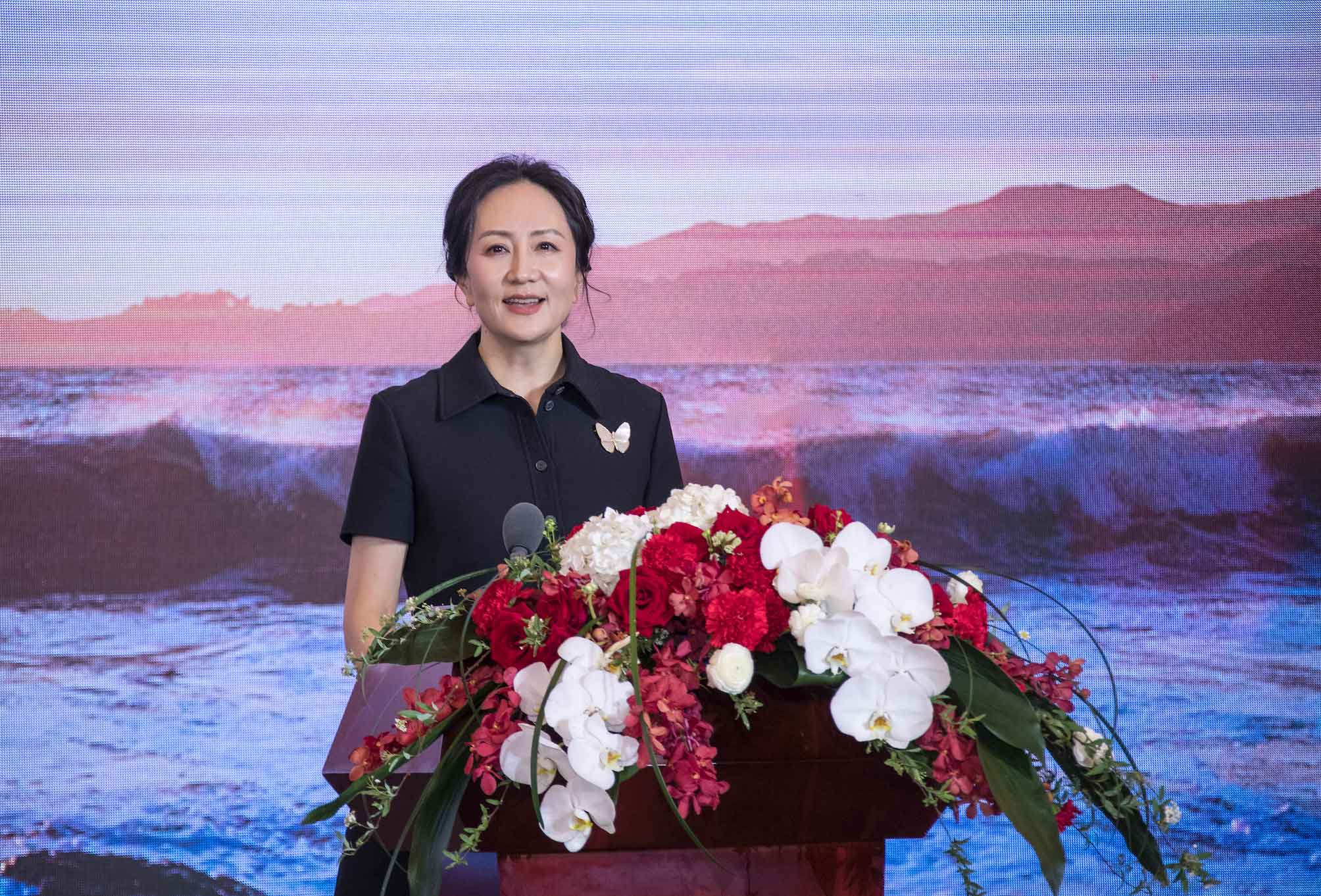 "The value of a company is not reflected in its financial performance, especially for a high-tech company like Huawei. Future-oriented, long-term investments can better reflect the real value of a company," said Meng. "The real value of Huawei lies in the capabilities of the teams and platforms built with our long-term R&D investments. They are key to Huawei's long-term sustainability and competitiveness."
Robust performance for carrier and enterprise businesses
In 2021, Huawei's carrier business generated 281.5 billion yuan in revenue, accounting for 44.2% of total revenue. Of which, more than half of its carrier business took place outside of China. Notable growth in Huawei's carrier business can be attributed to 5G networks deployed for carriers in 13 countries, including Switzerland, Germany, Finland, the Netherlands, South Korea, and Saudi Arabia.
In terms of industrial 5G applications, Huawei has signed more than 3,000 commercial contracts, with many large-scale commercial deployments across industries including manufacturing, mining, steel, port, chemical, cement, power grid, and healthcare. Leveraging its simplified site solution, renewable energy, and intelligent technologies, Huawei has helped carriers in more than 100 countries, including the Netherlands, Indonesia, Poland, and the UAE, deploy green sites.
"Major trends such as digitalization, intelligence and carbon neutrality are the directions that will define our ongoing development," said Guo Ping, Huawei's rotating chairman. Citing Huawei's recent wins for its innovative products and solutions at the MWC Barcelona, Guo added that Huawei's digital innovations are recognized by carriers and industry peers.
Owing to accelerated digital and intelligent transformation across industries, Huawei's enterprise business also witnessed rapid growth. Revenue for enterprise business reached 102.4 billion yuan, accounting for 16.1% of total revenue. Specifically, new businesses including cloud services, digital power and intelligent automotive components experienced robust growth of more than 30% in 2021.
According to Gartner's report on the global IaaS public cloud services market in 2020, Huawei ascended to the second spot in China, and successfully ranked 5 among the top global IaaS vendors ­– therein becoming the fastest-growing of all major vendors in Asia Pacifc and globally.
At present, Huawei cloud spans 61 availability zones within 27 geographical regions, covering more than 170 countries. A platform used widely by both the public and private sectors, Huawei cloud reaches more than 2.3 million developers, 14,000 consulting partners and 6,000  technological partners, serving over 4,500 cloud products in the market.
Key contributor to digital transformation in Asia Pacific
As one of the most populous and diverse regions in the world, Asia Pacific presents huge prospects for digital transformation and digital economy growth. With more countries embracing digitalization as a national agenda, Jun Zhang, director of Huawei Asia Pacific public relations reiterated Huawei's ambition to ramp up on delivering connectivity and intelligence, and advancing low carbon and digital inclusion initiatives.
Addressing Huawei's commitments to the region, Jun noted that a key priority is expanding network coverage to bridge the region's digital divide. For instance, Huawei has deployed a new system in the Philippines, leveraging mobile devices and AI to protect rainforests from illegal logging and animal poaching. In the high-altitude and isolated Papua region, Huawei has also successfully delivered 4G connectivity to a million residents.
In terms of providing low carbon solutions, Huawei Digital Power has helped customers in the region reduce up to 17 million tons of carbon emissions. In Singapore, for instance, Huawei supported Sunseap Group with industry-leading solar inverters to build one of the world's largest offshore floating farms.
To address an ICT talent shortage, Huawei will invest $50 million over the next five years to train 500,000 ICT talent in the region. In Malaysia, Huawei will establish the Women's Leadership Foundation (WLF) to impart skills in business analytics, AI, big data and blockchain to 2,500 women. In the next three years, Huawei will also commit about $100 million to its Spark program to grow the region's start-up ecosystem.
Recognizing that innovation is key to maintaining Huawei's competitiveness, about 10% to 20% of total revenue goes into R&D each year. In the past decade, Huawei has since amassed over 845 billion yuan in R&D investments. To date, Huawei has built three research centers and five labs and innovation centers in the region.
"We will keep investing heavily in R&D to stimulate innovation and cultivate Asia Pacific talents to continuously provide the most advanced and high-quality products and services for our clients," Jun said. "We will continue to deliver industry-leading 5G solutions and work with our customers to build high-quality 5G networks."
Especially in Southeast Asia, where digital economies have been forecasted in the e-Conomy SDEA 2021 report to reach $1 trillion by 2030, Guo expressed that Huawei will invest heavily in technologies including 5G, AI, cloud, deepening cooperation with more governments and stakeholders to accelerate countries' digital transformation journeys.
Elaborating on Huawei's partnership with Indonesia, the largest economy in ASEAN, Guo said, "In spite of the ongoing pandemic, Indonesia's Coordinating Minister for Maritime and Investment Affairs Luhut Binsar Pandjaitan took the time to visit Huawei in person at the end of last year. During our meeting, we discussed areas in which Huawei can work with Indonesia, like ICT infrastructure and digital transformation, particularly 5G, cloud infrastructure, and the construction of its new capital city."
Elsewhere, Huawei has invested approximately $15 million to develop a 5G ecosystem innovation center in Thailand. More notably, Huawei jointly launched Thailand's Siriraj World Class 5G Smart Hospital, ASEAN's first 5G smart hospital. This year, Huawei and Siriraj Hospital will establish a joint innovation lab to incubate over 30 innovative 5G applications.
Investing in the future
Huawei will channel investments in three key areas, namely system architecture, architecture optimization and software performance improvement, and theoretical exploration. Establishing a highly trustworthy and reliable supply chain is also important in today's challenging climate.
For its global carriers and enterprise customers, Huawei will work toward building green, simplified, and intelligent ICT infrastructure and facilitate digital transformation in all industries. ICT technologies will be integrated across industry scenarios to meet differentiated customer requirements.
Moving forward, Guo stressed that "Huawei will advance its journey of digitalization, intelligent transformation, and low carbon. Relying on talent, scientific research, and an innovative spirit, we will continuously increase investment to reshape our paradigms for fundamental theories, architecture, and software, and build our long-term competitiveness."