At the Autonomous Networks Summit 2022 held in Bangkok, Thailand, TM Forum and 54 industry partners, including China Mobile, AIS and Huawei, jointly released the fourth Autonomous Networks (AN) whitepaper: Autonomous Networks: Empowering Digital Transformation – from Strategy to Implementation.
The objective of AN is to help communication service providers (CSPs) achieve business growth and efficient operations. AN is aimed at delivering a zero-wait, zero-touch, and zero-trouble experience for vertical industry users and consumers through intelligent infrastructure, agile operations and all-inclusive services of fully automated networks and ICT. AN is also aimed at supporting self-serving, self-fulfilling and self-assuring telecom networks for various CSP departments, including planning and O&M.
The past three years have witnessed the development of an extensive industry consensus regarding the AN vision, architecture, AN level (ANL) and core concepts. AN has become one of the top 3 tech stacks of TM Forum. TM Forum has jointly initiated 46 standards or research topics focusing on the architecture, ANL, evaluation, technologies and interfaces with nine standards development organizations, including CCSA, 3GPP and ETSI. CSPs, along with equipment and system vendors, have released more than 20 AN-related whitepapers, describing their AN value, strategies and progress. More than 10 CSPs are focusing on four elements that are key to AN implementation and have carried out ANL and effectiveness evaluation, application innovation and operation practices.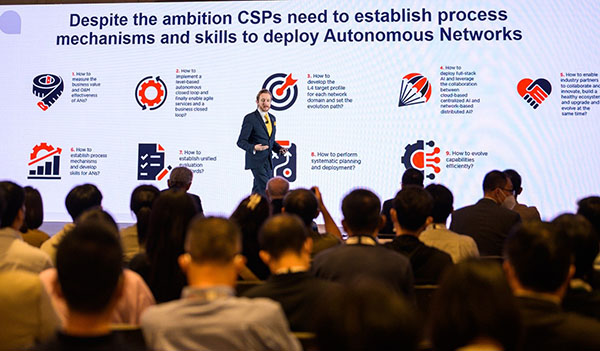 The fourth AN whitepaper shares the latest updates on industry trends and standards achievement and provides insights on and suggestions for AN challenges, implementations and practices, commercial use cases and technologies to highlight the motif "from strategy to implementation." With a focus on enabling verticals, customer experience and business growth as well as efficient O&M and green energy, this whitepaper introduces 19 trending use cases in the industry. These include intent-driven AN; AN enabling eastern data and western computing force; AN hyperloops enabling Smart-X industries (smart tourism/stadium); and 5G cloud networks enabling verticals. It also systematically describes how AN concepts are applied in CSPs' production and service scenarios, such as the AN architecture, closed-loop mechanism, Self-X capabilities, single-domain autonomy and cross-domain collaboration. Finally, it also provides reference practices for CSPs to increase ToB revenue and empower services.
In particular, seven best systematic AN practices of leading CSPs, such as China Mobile, China Telecom, China Unicom, AIS and MTN offer future industry partners with a reference 3-step practice (develop ANL, evaluate ANL, and plan and build AN capabilities).
As large-scale development of the AN industry is reaching a pivotal point, this whitepaper can provide methodology guidance, reference practices and new insights for industry partners to jointly promote the healthy and prosperous development of AN.
For more information, please download the fourth AN whitepaper at: https://www.tmforum.org/resources/whitepaper/autonomous-networks-empowering-digital-transformation-from-strategy-to-implementation/