At MWC 2023, ZTE Mobile Devices unveils its upgraded "1+2+N" full-scenario intelligent Ecosystem 2.0, alongside a suite of products at two separate launch events, aimed to advance intelligent integration, multi-scenario smart life and deliver empowered consumer experiences. Telecom Review Asia Pacific connects with Ni Fei, President of ZTE Mobile Devices, to learn about the value of these offerings.
5G and IoT convergence will fuel intelligent connectivity and, along with it, the demand for seamless, full-scenario digital uses and intelligent experiences. According to ABI Research and Mobile, 5G FWA is expected to grow at a compound annual growth rate (CAGR) of over 70% to connect the unconnected and deliver quality experiences. By 2026, the number of 5G FWA users will exceed 60 million.
5G fixed wireless access (FWA), an alternative to broadband connections, is quickly gaining momentum as a more economical and accessible way to provide superior customer experiences. As demand for personal and family communication connections grows, ZTE is focused on leveraging its understanding of users and industries to expand its overall terminal strategy, said Ni Fei, President of ZTE Mobile Devices.
As a leading provider for this market segment, ZTE has launched a series of sought-after 5G FWA products in previous years. Based on a new report by TSR, an international professional consulting agency, the market share of ZTE 5G FWA products exceeded that of Huawei and other suppliers in 2022, to rank first in the world. By the end of last year, its global cumulative shipments of 5G mobile broadband (MBB) and FWA have exceeded 3 million units and are also employed by about 100 operators around the world.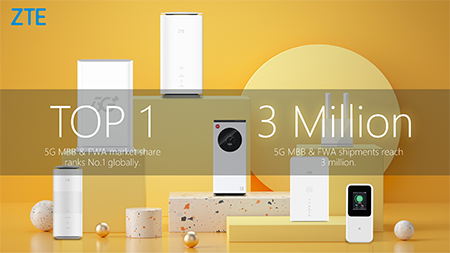 Designed to deliver a solution conveys the product concept of "Green, Intelligence & Security" (GIS) to help operators expand 5G coverage, ZTE introduces the new 5G FWA Gen 5, a Wi-Fi 7 compatible router that features a small LCD with a touch screen interface to display date & weather,  current data rate, the connected devices, Wi-Fi QR code and other functions.
A new commercial 5G FWA flagship product launched at MWC 2023, the MC888 Pro GIS Version, provides multiple intelligent scenario modes and supports user-defined intelligent scenarios. Made of 95% PCR materials, the MC888 Pro GIS Version yields all-around green and low-carbon power-saving benefits and reduces overall energy consumption by 10%. In addition, it is backed by a comprehensive security system and globally distributed network security laboratories to guarantee the security of worldwide networks.
"To address market needs, the new products promise greater power saving, environmental protection, smart power control and internet remote control," Ni Fei stated.
In line with building an intelligent ecosystem as personal and family data terminals evolve, Ni Fei cited the release of the "1+2+N" Full-Scenario Intelligent Ecosystem 2.0, centered on smartphones, to cover four major scenarios, including sports & health, video-audio & entertainment, business & travel and home & education.
Among the many products newly launched, Ni introduced the nubia Pad 3D as the world's first AI-powered eyewear-free 3D tablet, as well as the nubia Neovision AR Glass to power a super audio-visual experience.
A game-changer that offers a wide range of 3D application scenarios, Ni noted that the nubia Pad 3D leverages the power of comprehensive AI and 3D technology to provide elevated digital experiences. It can be used in consumer scenarios to access a wide array of 3D content as well as in commercial scenarios to realize augmented reality experiences.
Launched jointly by ZTE and Leia Inc., the nubia Pad 3D is an innovation that spanned two years of R&D, carried out by a team of more than 200 across 100 laboratories worldwide. Featuring Leia's 3D Lightfield technology and high AI computing power, the nubia Pad 3D achieves AI face tracking, which can match the best view (8 views at maximum) in real-time, real-time AI-based 2D to 3D conversion, AI-powered 3D content shot by front or rear cameras and is also compatible with AI 3D Dream.
"The nubia Pad 3D not only adopts leading technology, but also matches rich app resources, as well as the support of strong ecological partners," Ni added. "For a start, AIS will be our partner to debut the nubia Pad 3D in Thailand."
Another innovation by ZTE, the nubia Neovision Glass, supports 0-500-degree near-sightedness adjustment and is equipped to connect a wide range of smart terminals in myriad scenarios, such as personal mobile cinema, portable mobile games, and efficient office assistance, to help users explore life boundaries and discover new views and experiences. Apart from providing superior audio-visual experiences, it supports multi-screen, cross-device interaction, and intelligent integration for various consumer scenarios.
Popular among consumers, ZTE's 5G mobile phones recorded a 75% hike in shipments in 2022. Noting that affordable 5G smartphones are essential for countries to quickly transition into the next-generation 5G network, Ni shared that ZTE will launch more entry-level 5G mobile phones to spur global 5G adoption so that more people can enjoy the benefits of intelligent connectivity.
Strategically scaling its terminal business with a series of new launches will promote the continued growth of ZTE's consumer business, which recorded RMB14.39 billion in the first half of 2022, or a 16% year-on-year revenue growth.      
Through its latest offerings, Ni concluded that more consumers can finally enjoy full-scenario intelligent lifestyles by using products, applications, content and services provided by ZTE Mobile Devices.