Telecom Review Asia interviews David Lu, president, strategy marketing department, Huawei Asia Pacific Region to find out how ICT infrastructure will become a key enabler in transforming economies, industries, environments, and lives as we transit into an intelligent world.
We stand at the cusp of the fourth industrial revolution, as well as an intelligent age when new technologies such as AI, IoT, 5G, and biological engineering infiltrate every facet of our lives.In the intelligent world, all things will be sensing, connected, and intelligent,according to David Lu, president, strategy marketing department, Huawei Asia Pacific Region, who recently presented at the  AsiaTech x Singapore 2021 on the global digital landscape by 2025.
Elaborating on this topic, David shared that in this intelligent world, the physical will be sensed and mapped into digital signals to provide users with immersive experiences with contextual interactions. Networks will power ubiquitous connections that amass large quantities of data, while big data and AI-driven applications will make everything intelligent.
As advanced technologies proliferate, ICT infrastructure will grow in importance as a key enabler to drive economic growth, innovation, value creation, and sustainable development to positively impact economies, societies, and lives.
Enterprise cloud transformation in a digital economy
The future economy will be a digital one. According to forecasts, there will be 100 billion connections by 2025, creating a digital economy valued at US$23 trillion. 75% of global enterprise data will be processed at the edge and more than 75% of global production systems will use containers. As part of their digital transformation journeys, enterprises need to embrace a cloud-native strategy to support the use of big data and IoT to deliver optimized and future-oriented solutions. To fully unleash the benefits of cloud computing, enterprises need to begin building service capabilities to ensure a seamless experience across hybrid, public, and edge clouds to facilitate intelligent upgrades critical for sustainable growth.
By 2025, Huawei predicts that 180 zettabytes of global data will be produced each year, driven by the rise in 5G and IoT, to represent an 18-fold jump from the amount of data generated in 2018. Given the massive volume of data generated, David noted that unstructured data must be processed, using diverse computing capabilities like CPU, GPU, and NPU, to be made easier to use to achieve the best cost per bit throughout the whole data lifecycle.
"Given the diversity of business scenarios and data, the intelligent world will usher in a new era of diversified cloud computing. Since data can be incorporated with AI to improve productivity and capability, massive data that is secure and tradable will become a key asset for enterprises," said David.
As a global leading ICT provider, Huawei provides innovative end-to-end solutions for data and information distribution, transmission, processing, storage, and learning to core customers such as carriers, governments and enterprises. Focused on powering connectivity and cloud computing, Huawei's ICT infrastructure strategy features ubiquitous gigabit, deterministic experiences, and hyper-automation to provide ubiquitous cloud services and pervasive intelligence.
Ranked fourth in the Asia-Pacific's IaaS market and fifth in the global market at the end of 2020, Huawei Cloud's full-stack technology provides stable, reliable, secure, and sustainable public and hybrid cloud solutions. An enabler for enterprise cloud transformation, Huawei's Cloud-Native 2.0 supports intelligent upgrades, allowing enterprises to harness the benefits of transiting from "on-cloud" to "in-cloud".
"Leveraging ICT infrastructure founded on connectivity, computing, and intelligence, Huawei envisions developing an open ecosystem, building intelligent twins for industries, and delivering all-scenario intelligent connectivity solutions," David shared.
Elevating industries through transformation
Technologies enable and accelerate industrial digital transformation and add value to societies and individuals' well-being. In China, for instance, Huawei works with partners such as China Mobile to launch smart port solutions, such as 5G smart tallying, 5G remote control of gantry crane, and 5G unmanned container truck. With 5G remote control of gantry crane for instance, drivers can sit in an air-conditioned office to control several cranes remotely, instead of climbing up a 20-meter high control room. Not only do drivers enjoy improved work conditions, loading and unloading efficiency also increases by 20%.
Collaboratively, China Mobile and Huawei also helped Yangquan Coal Industry Group complete the deployment of the country's first underground and the world's deepest underground 5G network, at 534 meters. Deployment of 5G, intelligence, and cloud at the mine provides safe, efficient, and reliable mine monitoring, making unmanned mines and remote O&M a reality.
In Thailand, Huawei's smart healthcare solution at Siriraj - Thailand's largest hospital - enables remote consultation, intelligent medical image analysis and autonomous medical vehicles to provide more convenient patient care, reduce the workload of doctors, minimize contact, and greatly reduce the risk of cross-infection. In Malaysia, Hexa Food, a producer of herbs, spices, and seasoning products leverages Huawei Cloud and intelligence to quickly and accurately identify the quality of chilies. Compared to traditional chili sorting that is time-consuming, laborious, and inconsistent, the process of intelligent chili sorting is 50% faster, 96% more accurate and frees up manpower resources.
Huawei Cloud and intelligent solutions are also applied across steel, power grids, and manufacturing industries, amongst others. To date, Huawei has enabled more than 20 industries through more than 5,000 innovative projects, over 1,000 commercial service contracts.
Advancing digital inclusion to build sustainable societies
Technology is the catalyst for future growth. In the next decade, economic growth will be powered by the digital economy, forecasted to grow at twice the rate of traditional economies. By 2030, ICT infrastructure like 5G, intelligence, cloud computing, and IoT will account for more than 40% of today's global gross domestic product (GDP). In view of this, David encouraged developing countries to increase their investment in digital infrastructure to close the gap with developed nations.
To spur national digitalization efforts and ensure that no one is left behind in the digital world, Huawei adopts a multi-pronged approach to bridge the digital divide. For instance, Huawei's TECH4ALL is a digital inclusion initiative that brings together global partners such as UNESCO, NGOs, governments, and Rainforest Connection to bring improvements to areas such as education, environment, health, and balanced development.
Powered by Huawei's RuralStar, an innovative rural network solution, 40 million people now have access to connectivity in underserved areas. In addition, Huawei's mobile money solution provides convenient mobile payment services for 150 million unbanked people. In 2013, Huawei launched its ICT Academy, now covering more than 60 countries or regions, to groom digital talents. In the past two years, Huawei has trained more than 88,000 ICT talents in ASEAN countries such as Malaysia, Thailand, and Indonesia. In the coming years, Huawei will be expanding the academy to more countries to train over 300,000 ICT talents.
Furthering global climate governance to build a sustainable environment
With 28 major economies, including EU, China and Thailand committed towards achieving carbon neutrality, climate governance is gaining traction globally.
"Carbon neutrality should arouse global attention, including developing markets. As the digital economy grows,accelerating emission reduction could also help countries to manage the risk of trade barriers and carbon boarder tax," said David. 
This calls for the world to prepare for a future that is low-carbon, electrical and digital and industries need to digitalize to efficiently convert, store, and control electric energy.
Aligned with this vision, Huawei supports the green revolution by using ICT-enabling technology to achieve power savings and reduced carbon emissions. Last year, Huawei used more than 900 million kWh of electricity from clean energy, significantly reducing carbon emissions by 4.5 billion tons from the preceding year. To help customers save energy as well, Huawei leverages clean power generation, electric transportation, and smart energy storage to help them reduce the carbon footprint of ICT infrastructure.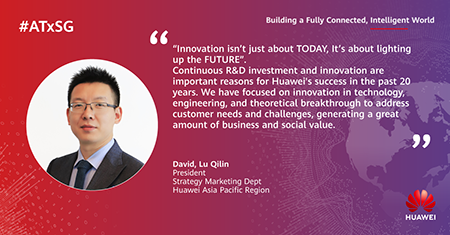 Trusted innovation partner in a digital world
Huawei works with global ecosystem partners to build sustainable societies, environments, and economies. With increased digital transformation and ICT infrastructure, Huawei ensures that cybersecurity and privacy are prioritized. In 2019, Huawei opened a Cyber Security Transparency Centre in Brussels to work with various stakeholders to develop unified security standards and verification mechanisms.
Concluding, David emphasized that innovation never ends in a digital world. Each year, Huawei invests more than 10% of its sales revenue into research and development to achieve on-going innovative breakthroughs. Ranked third in the 2020 EU Industrial Investment Scoreboard, climbing two spots from the preceding year, Huawei is at the forefront of digital innovations today.