In conjunction with the Huawei APAC Digital Innovation Congress 2022, jointly held by Huawei and the ASEAN Foundation at Marina Bay Sands, Singapore, Telecom Review Asia spoke with Zeng Xing Yun, President of HUAWEI CLOUD APAC, in an exclusive interview to learn about HUAWEI CLOUD's key development in regional markets.
Cloud is a key driver to scale digital transformation and advance economies. Focused on accelerating cloud to build leading digital infrastructure as the backbone for digital economies, HUAWEI CLOUD APAC continually innovates to become the most comprehensive cloud service provider in the region.
HUAWEI CLOUD has been operating in Asia-Pacific since 2018. According to third-party data, HUAWEI CLOUD has risen to seal the third spot in Thailand, and fourth in emerging markets in Asia Pacific, to become the fastest-growing cloud provider among the top five leading cloud providers in the region.
Addressing HUAWEI CLOUD's rapidly-growing reach in Asia Pacific, Zeng Xing Yun, President of HUAWEI CLOUD APAC cited its launch in 11 regions, which are located in Singapore, Thailand, Malaysia, and Hong Kong (China). It will also be introduced in Indonesia this year.
In his speech during the Huawei APAC Digital Innovation Congress, Zeng reviewed HUAWEI CLOUD's six strategies which help them to achieve good performance in the Asia Pacific market, "In terms of industry strategy, we focus on 'Infrastructure as a Service', 'Technology as a Service', and win-win with ecosystem partners to continuously improve the core competitiveness of HUAWEI CLOUD. In terms of market strategy, we focus on 'Dive into digital transformation', accelerate cloud native and business innovation, and build the best 2B services' to continuously create value for customers."
"HUAWEI CLOUD is striving to be one of the most comprehensive cloud service providers and a preferred partner for digital transformation among enterprises  in the region," he added.
Zeng highlighted that achieving shared success with ecosystem partners is an important part of HUAWEI CLOUD's strategy. Success within the cloud industry relies on all players operating in the ecosystem. This is because, from an end user perspective, no single enterprise can meet all users' demands.
Focused on ecosystem building to create shared values for customers and partners, HUAWEI CLOUD's partners increased by 90% in 2021, with partners' revenue rising by 150% – an amount that is even higher than HUAWEI CLOUD's revenue growth.
"This success draws on Huawei's commitment to APAC customers and partners in the carrier and enterprise markets over the past two decades to deliver good service, good quality, quick response to customer requirements, technological innovation to create customer value, and win-win cooperation with ecosystem partners." Zeng pointed out. "Today, HUAWEI CLOUD adheres to the same values and business strategies to build a trusted, innovative cloud in Asia Pacific, for Asia Pacific."
Creating Shared Values with Ecosystem Customers and Partners
HUAWEI CLOUD focuses on supporting customers across government, finance, enterprise and other sectors in the Asia Pacific market. From cloud-native infrastructure, intelligent data, SaaS applications, to business innovation, agile enablement, security and compliance, as well as strategy and innovation, Huawei focuses on satisfying full-stack client demands.
One example in the financial sector is Siam Commercial Bank (SCB) – Thailand's oldest bank. Though SCB embarked on its digital transformation journey in 2016, the bank worked with HUAWEI CLOUD in the past year to cement digitalization efforts and support continuous growth as it evolves into a major digital platform service provider and fintech conglomerate under its new parent company, SCBx.
Recognizing that digitalization holds the key to the future, Dr. Chalee Asavathiratham, SEVP, Chief Digital Banking Officer, Siam Commercial Bank (SCB), shared SCB's motivation to challenge tradition with innovative digital transformation solutions, leveraging data and analytics to create digital banking that is "effortless, ever-present and empathetic".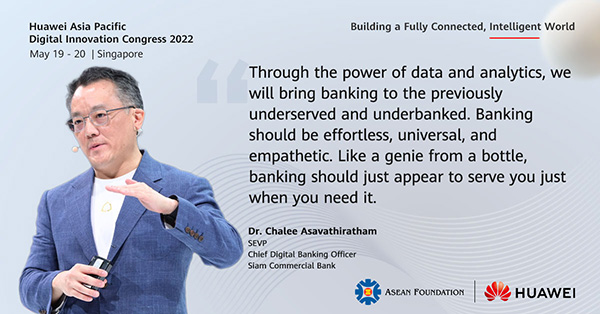 Together with an ecosystem partner that offers core landing solutions, HUAWEI CLOUD deployed its container services to help SCB implement a new core digital banking system that enables improved resource utilization and efficiency. SCB tapped on HUAWEI CLOUD's wide ecosystem reach to learn from counterparts in different geographies, and in doing so, experiment with and tailor solutions that fit the local market.
Within a relatively short period of time, HUAWEI CLOUD migrated SCB's traditional core banking services to the cloud. HUAWEI CLOUD addressed challenges that surfaced from system integration and data silos, as well as compliance and security, to provide SCB's 30 million users 0.1 seconds quicker system response, at a rate of more than 300 transactions per second.
"Cloud is the underlying enabler to accelerate digital innovation," said Dr. Chalee of the collaboration. "This transformation is aligned with SCB's direction of embracing new cultures, new mindsets, and fresh perspectives, modeled after fintech startups that are agile, data-driven, experimental, and result-oriented."
In the healthcare sector, HUAWEI CLOUD collaborates with Health Insights to deliver end-to-end healthcare solutions based on multiple basic cloud services such as ECS, EVS, and RDS to Malaysia's Sunway medical center. By migrating their hospital core system to the cloud, Sunway medical center has shortened deployment times for services like patient ward and bed allocation from days to minutes, greatly improving resource utilization and patient experiences.
HUAWEI CLOUD also provides cloud services for many other customers in the region, including Singapore's one-stop lifestyle app Nestia, Singapore's Internet company UCARS, Thailand's energy and oil company PTT Digital, Malaysia's Hexafood, and Cambodia Airways. To date, Huawei has served more than 200 key customers in Asia Pacific and has worked very closely with more than 2,000 partners.
Currently, HUAWEI CLOUD operates across 27 regions, 65 availability zones, 2,800 CDN nodes worldwide, with customers in 170 countries and regions. In total, HUAWEI CLOUD provides more than 220 cloud services, 210 solutions. These collaborations underscore HUAWEI CLOUD's priority toward digital innovation in Asia Pacific, and beyond, Zeng emphasized.
Growing Market Competitiveness
"To support the rapid innovation and intelligent upgrade of customers in the region, HUAWEI CLOUD will launch multiple new services in Asia Pacific this year," Zeng explained. This includes the global network acceleration service GA, to reduce cross-country access E2E latency by 50% to meet the needs of real-time competitive gaming businesses; SparkRTC to make provision for improved real-time audio and video with cross-continent latency below 200ms; DevCloud for agile development; and GaussDB for financial-level distributed databases.
Elaborating on HUAWEI CLOUD's strategy, Zeng added that cooperation frameworks are instrumental to achieving win-win with ecosystem partners. On the one hand, HUAWEI CLOUD strengthens cooperation with SI, service, and distributor partners to improve capability to serve customers. The GrowCloud program is available to these partners. On the other hand, HUAWEI CLOUD deepens cooperation with software, marketplace, developer, and device partners to improve the competitiveness of cloud service and solutions. The GoCloud program is available to these partners.
Huawei Cloud is committed to providing the best possible B2B services in the Asia-Pacific region,and has established local delivery and service teams in more than 10 Asia-Pacific countries and regions, staffed with more than 600 technical service engineers, 200 O&M experts, and 100 certified project managers. These teams provide cloud migration enablement services, cloud support services, and expert cloud services for domains like cloud native, big data, and security optimization, to swiftly respond to the needs and issues of local customers.
Propel Asia-Pacific Startups to Scale-ups
Notwithstanding, HUAWEI CLOUD leverages its portfolio in the cloud collaboration space to foster technological innovation, business ecosystems and accelerate the growth of startups.
Launched by HUAWEI CLOUD in August 2020, the Huawei Spark accelerator program rides on Huawei's world-leading tech and global ecosystems, to propel Asia Pacific startups to scale-ups. Since its inception, the program has attracted over 80 startups and has quickly become a regional leader in the startup ecosystem. To promote ICT startups in Asia Pacific, HUAWEI CLOUD will be investing US$100 million in regional startup initiatives over three years.
In August this year, the second instalment of the HUAWEI CLOUD Spark Founders Summit will take place in Singapore to propel more visionary, high-potential startups to success.
Concluding, Zeng reiterated HUAWEI CLOUD's commitment to building the cloud foundation for an intelligent world, and becoming a key enabler in digitalizing industries and economies to yield win-win scenarios for ecosystem partners.